Blogs: Canadians Continue to Drive Distracted, Despite Knowing Better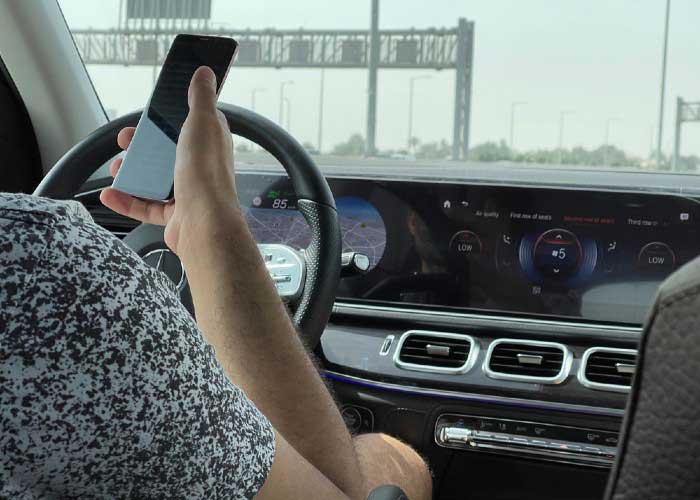 As car accident lawyers, the team at Neinstein Personal Injury Lawyers is intimately familiar with many different types and causes of traffic accidents. In recent years, there has been sustained focus by law enforcement officials, road safety advocates, and other stakeholders on reducing the number of accidents related to distracted driving.
Specifically, efforts have been focused on limiting the prevalence of technology-related distracted driving, which includes using navigation apps on unmounted devices, checking messages while stopped at traffic lights, making hand-held phone calls, watching videos, and more. In certain respects, those efforts appear to be working. In the 2022 iteration of Rates.ca's annual distracted driving survey, 58 per cent of respondents agreed that distracted driving is the biggest threat to traffic deaths, up from 47 per cent in 2021 and 40 per cent in 2020.
Unfortunately, awareness of the risks of distracted driving hasn't translated to a reduction of those risks. Eighty-three per cent of respondents to Rates.ca's survey said they engaged in distracted behaviour of any kind while behind the wheel (non-technology-related distracted behaviour includes eating or drinking while driving, reaching for items, looking at or talking to passengers, etc.) and 43 per cent said they used a hand-held electronic device while operating a vehicle.
And even while distracted driving convictions were down in some provinces, like Alberta, during the first year of the COVID-19 pandemic, car accident lawyers and road safety advocates seem to agree that the reduction had more to do with the number of cars on the road and courtroom capacity limits than improving behaviours.
"On any drive that you'll take, you will more than likely be seeing someone drive distracted," said Alberta Motor Association VP of advocacy and operations Jeff Kasbrick to CBC News Edmonton in March. "So it would be a great myth for us to think that we've solved the challenge and the problem of distracted driving."
With distracted driving rates continuing to increase, stakeholders are left wondering what can be done to change driver behaviour. Advocacy and public messaging appear to have effectively communicated that distracted driving is extremely dangerous – yet Canadians continue to use their phones behind the wheels.
The next phase in reducing distracted driving rates may be to focus on offenders' wallets. Convictions can already lead to hefty fines; now, Rates.ca has tracked significant insurance premium increases related to distracted driving charges. As their report observed: "If your own safety, and the safety of others, isn't enough of an incentive to stay alert while driving, it's possible an auto premium increase might pave the way toward safer driving practices among Canadians."
Contact Neinstein Personal Injury Lawyers
If you've been injured in a traffic accident involving distracted driving, contact Neinstein Personal Injury Lawyers today to learn how our experienced team of car accident lawyers can help. We will listen to your story, review your claim, and explain the steps in the legal process.
Image: Shutterstock