Dec 02, 2022 in News Medical Malpractice
Medical Malpractice: Suicides and Self-Harm in Hospitals - Potential Medical Malpractice in Canada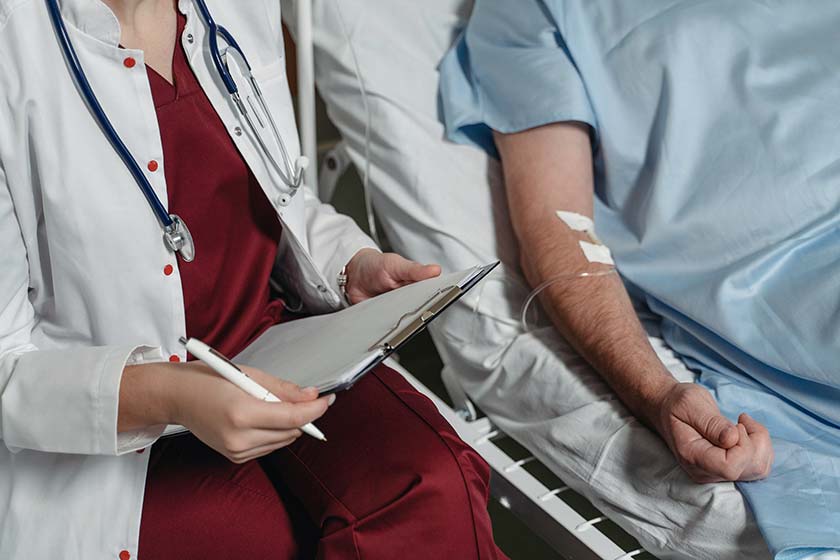 Medical Malpractice Canada - Patients Self-Harming While Under Hospital Supervision
When family or authorities believe a person is at risk of harming themselves, they may be admitted to a hospital for supervision. The hospital is often considered the option of last resort, even by mental health organizations. That said, hospitals can keep this person safe and prevent them from committing self-harm. There are circumstances, however, when the hospital is neglectful in its duty to provide appropriate care and supervision, which can be deemed medical malpractice in Canada.
Over a 10-year period, Canada saw 300 deaths in hospitals and healthcare settings, and what sparse statistics there are show self-harm numbers in hospitals aren't really coming down. Patient self-harm and suicide in healthcare settings are a reality, and few seem to be talking about it.
"Never Events" in Canadian Hospitals - Potential Medical Malpractice Cases
"Never events" are safety incidents that lead to serious patient harm or death but would have otherwise been preventable had the hospital provided the appropriate level of care, supervisions, etc.. This can include:
A patient under the highest level of observation leaving a secured facility or ward without the knowledge of staff

A patient under the highest level of observation committing suicide or attempting suicide, resulting in serious harm

A patient not being placed under appropriate observation levels
But there are other reasons that a medical malpractice lawsuit is appropriate. Call a qualified medical malpractice lawyer today to find out more.
Two Instances of Suicide Negligence (and Possible Reasons for Medical Malpractice Lawsuits)
In 2015, two events were recognized as "never events".
In one, a patient was admitted to the Acute Care Unit (ACU) at a psychiatric hospital after an attempted suicide. The patient was assessed as being at high risk of suicide and required a high degree of monitoring. However, the patient was found deceased two days after being admitted. An expert review of the case found that the patient had not been observed for more than ten hours; moreover, there were significant gaps in the charting of nurses.
In another, a patient was admitted for treatment for depression, suicidal ideation, and substance abuse. Two weeks after being admitted, the patient attempted suicide and suffered a severe brain injury. An expert review of the case found that the patient had access to contraband (shoelaces), which shouldn't have been permitted. It further found improper insufficient staffing (such as only one registered nurse during dinner breaks), which contributed to the patient finding the opportunity to attempt suicide.
How Does Suicide Negligence Fit in With the Medical Malpractice Definition?
Medical malpractice cases can be filed for the failure of a medical or healthcare professional to meet the standards of care laid down, either through negligence or omission, leading to injury or death of the patient.
Inadequate staffing during break times, failing to maintain regular oversight over the at-risk patient, and allowing contraband to come into the possession of the patient can be causes for a medical malpractice lawsuit.
"It Can't Be One Individual, it Needs to Be a Proper System of Care"
Dr. Geetha Jayaram, a physician advisor and associate professor at Johns Hopkins Hospital in the U.S., told CTV News that there's an opportunity to prevent such deaths from occurring, "but it can't be one individual, it needs to be a proper system of care."
"You have to begin from facts and if the facts are there, then we can use that information to develop policy", adds Kathleen Stephany, a former British Columbia coroner. And that's where the problem lies.
Studies and data on self-harm and suicide while in hospital care are woefully inadequate, but previous investigations have shown proper procedures and practices aren't always followed. Greater transparency in incidents and tracking hospital suicides are essential for developing effective strategies for preventing "never events".
Reasons for Medical Malpractice Lawsuits Re: Suicide Negligence
While there's no strict medical malpractice criteria you can employ to determine if a lawsuit is viable, there are some tell-tale signs.
Lack of appropriate supervision, leaving the hospital without properly informing family or while the patient still suffered from severe mental health issues, improper supervision or allowing of contraband that can be used for self-harm, all of these are potential signs of suicide neglicence.
Protecting Loved Ones in Hospital if They Are at Risk of Self-Harm or Suicide
Sit down with hospital staff to discuss risk factors and develop a safety plan. Be vigilant yourself about whether the hospital is following appropriate processes to keep the patient safe.
If you suspect an incident of self-harm while the loved one was at the hospital, speak to our lawyers about reasons for medical malpractice today. We'll help explain the medical malpractice criteria, and what your options are.