Nov 07, 2023 in News Legal News
Legal News: Preparing for Slip and Fall Season - Advice from an Experienced Slip and Fall Lawyer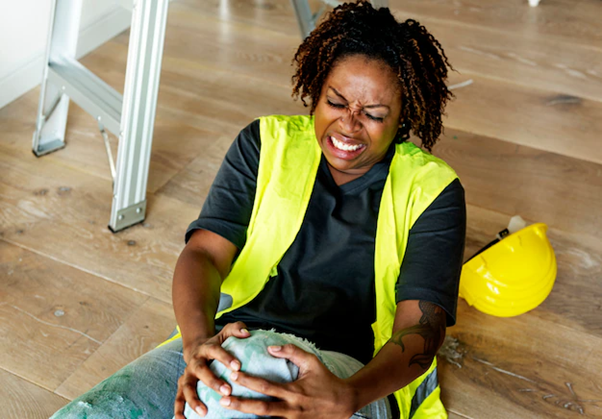 Your Guide to Winter Accidents (from Slip and Fall Lawyers)
As the seasons change and the weather turns cold, we find ourselves in the midst of what many refer to as "slip and fall season."
This time of year brings with it unique challenges and hazards, making it essential for individuals to understand the importance of seeking legal representation in the event of a slip and fall injury.
Every winter we see a spike in these types of injuries - about
18% of slip and fall injuries
occur due to ice or snow on the ground. In fact, over
9,000 Canadians
face an injury due to slips and falls every year. As
slip and fall lawyers
with decades of experience, we've helped hundreds of clients with a wide variety of injuries resulting from slips and falls - here's what you should know if you experience this type of injury.
Ontario's Occupiers' Liability Laws
Ontario's Occupiers' Liability Laws
designate the occupier of the property as responsible for ensuring that it's safe for people to traverse.
This requires the occupier to clear snow, salt the walkways, and generally keep the property safe for walking. The occupier must
make
reasonable
efforts
to do so.
The Seasonal Shift and Slip and Fall Risks
The weather shift during winter significantly increases the risk of slip and fall accidents. Here are some reasons why:
 
Weather Conditions

: Rain, snow, and ice can create slippery surfaces on sidewalks, driveways, parking lots, and other public areas, creating fall hazards.

 
Leaves and Debris

: The accumulation of fallen leaves, combined with moisture, can form a treacherous, slippery top layer on walking paths, increasing the chances of accidents.

 
Reduced Daylight

: Shorter daylight hours mean that people are often navigating their surroundings in reduced visibility, increasing the likelihood of misjudging steps and obstacles.
Consequences of Slip and Fall Accidents
Slip and fall accidents may seem minor, but they can have severe consequences, both physically and financially. Here are some of the potential outcomes:
 
Physical Injuries

: Slip and fall accidents can result in a range of injuries, from minor bruises and sprains to more serious injuries like fractures, head injuries, or even spinal cord damage.

 

There are lawyers specializing in each:

 
 
Medical Expenses

: The medical bills that accompany slip and fall injuries can be substantial. These expenses can include hospital stays, surgeries, physical therapy, and ongoing treatments.

 
Lost Wages

: Recovering from an injury often requires time off work. Lost wages can compound the financial burden of medical bills, making it difficult for individuals to meet their financial obligations.

 
Emotional and Psychological Impact

: Beyond the physical toll, slip and fall accidents can lead to emotional and psychological distress. Victims may experience anxiety, depression, and a reduced quality of life.
Why Contacting a Personal Injury Lawyer is Crucial
When you experience a slip and fall injury during the "slip and fall season," reaching out to a
personal injury lawyer
is not just a prudent decision but also crucial. Here's why:
 
Evidence Collection

: Personal injury lawyers have the expertise to gather and preserve evidence related to your accident. This includes photographs, witness statements, and any surveillance footage, which can be pivotal in establishing liability.

 
Negotiating with Insurance Companies

: Dealing with insurance companies can be complex and challenging. An experienced

slip and fall lawyer Toronto

can negotiate on your behalf to ensure you receive fair compensation for your injuries, medical bills, and lost wages.

 
Determining Liability

: Lawyers can investigate the circumstances surrounding your slip and fall accident to identify responsible parties. This may include property owners, businesses, or other entities that failed to maintain safe conditions.

 
Legal Expertise

:

Personal injury lawyers

have a deep understanding of the relevant laws and regulations. They can navigate the legal complexities of your case, ensuring your rights are protected.

 
Maximizing Compensation

: A lawyer will work diligently to secure the maximum compensation you are entitled to. This can include damages for medical expenses, pain and suffering, and lost income.

 
Peace of Mind

: Knowing that you have a legal advocate on your side can provide peace of mind during a challenging time. You can focus on your recovery while your

slip and fall lawyer

handles the legal aspects of your case.
The Role of Preventive Measures
While contacting a personal injury lawyer is essential after a slip and fall accident, prevention is always the best strategy. Here are some preventive measures to reduce the risk of slip and fall accidents during the season:
 
Footwear

: Wear appropriate footwear with good traction to help prevent slips on icy or wet surfaces.

 
Stay Informed

: Keep an eye on weather forecasts and road conditions, and plan your activities accordingly.

 
Clear Pathways

: If you are a property owner, make sure to clear ice and snow from walkways and apply salt or sand to reduce slipperiness.

 
Use Handrails

: When available, use handrails on staircases, and be cautious on elevated surfaces.
How Slip and Fall Lawyers Toronto Help
Slip and fall accidents are an unfortunate reality during the change of seasons, but seeking the guidance of a personal injury lawyer can make all the difference in the aftermath of such an incident.
The importance of legal representation cannot be understated, as it ensures that victims receive the support they need to navigate the complexities of a slip and fall case, while also holding responsible parties accountable.
Occupier liability cases, for instance,
can turn contentious
, which is why you want experienced personal injury lawyers advocating for your interests. At Neinstein
Personal Injury Lawyers
, we've helped clients recover more than $100 million in
compensation
, receiving the care and support they are legally entitled to.
If you or someone you know has been injured due to a snow or ice accident,
book a complimentary, no-obligation consultation
today to discuss your claim.